PETER PILZ & SILVIA LORENZ
"cage/uncage"

Halberstadt Biennale - 26.08. - 30.09.2016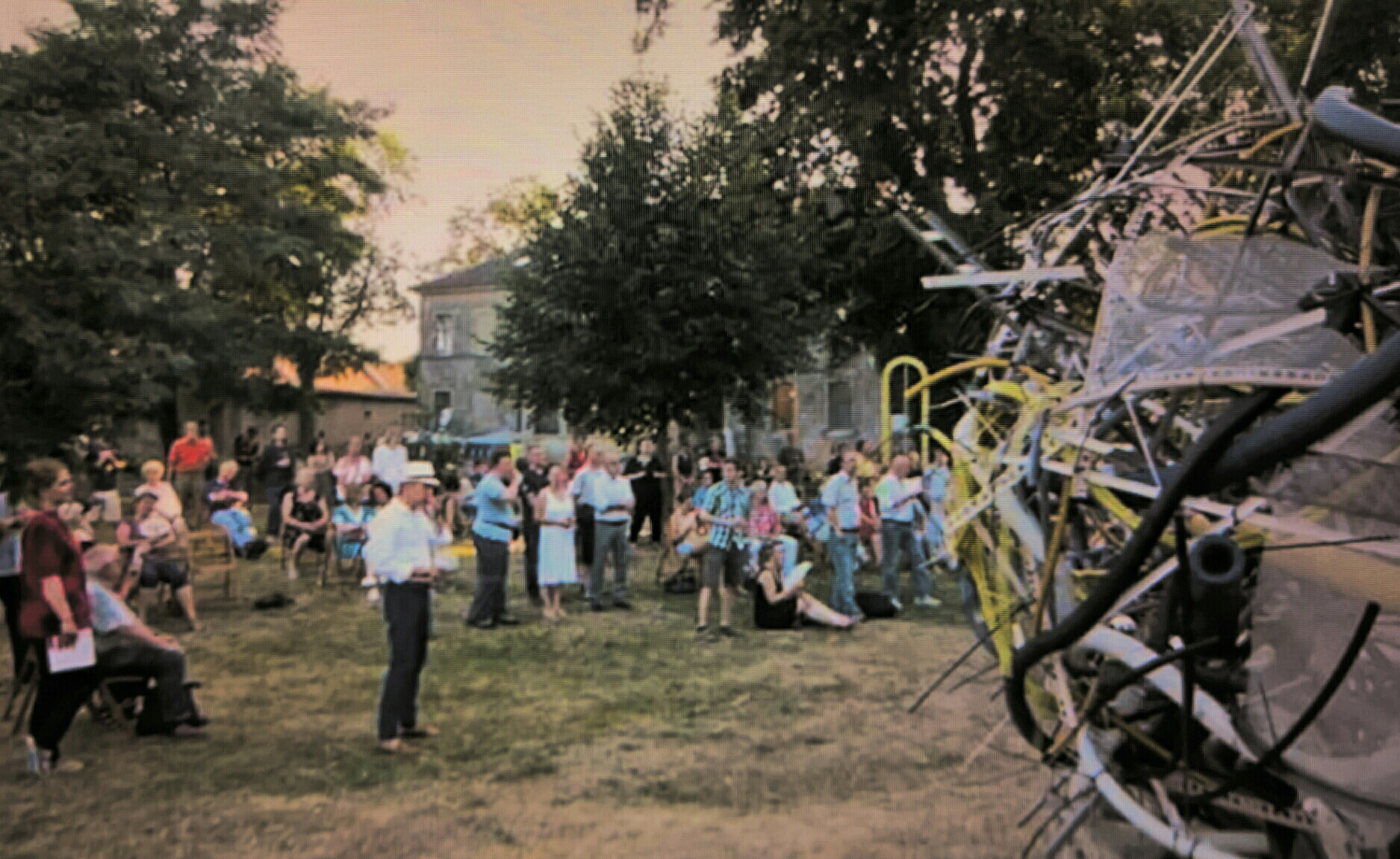 PETER PILZ und SILVIA LORENZ
"cage/uncage"
Der im österreichischen Burgenland, in Wien und Berlin lebende Peter Pilz zeigt im Garten des Herrenhauses eine Holzskulptur, die er für diesen Ort konzipiert hat: "cage" ist ein dreiteiliger, ineinandergefügter Raumkörper aus Kanthölzern, inspiriert durch das in Halberstadt typische Fachwerk, dem kubischen Innenraum der Klaussynagoge und der Holzkonstruktion der das John Cage-Stück "As Slow As Possible" spielenden Orgel in St. Burchardi. Innerhalb der offenen Konstruktion entstehen eine Vielzahl Räume, die sich ergänzen, durchschneiden und durchstoßen.
Das Gegenstück zu Pilz` Raumkörper bildet "uncage" von Silvia Lorenz, eine chaotisch-organische Kugelform, die aus Plastik- und Industrieabfällen besteht.
Die Skulptur ist angeregt von tumbleweeds, Steppenrollern oder "stolperndem Gras" - der Titel verweist auf ein "freigeben" oder "ausbrechen". Lorenz sagt: "Solche tumbleweeds rollen als ikonisches Bild in Westernfilmen oft als letzte Überlebende durch die verlassenen Straßen - die scheinbar toten Büsche tragen dabei die Samen für die nächste Generation der Pflanzen bei sich und verstreuen sie im Wind." Die Materialien für die Arbeit fand die Künstlerin auf verschiedenen Baustellen der Stadt, so etwa gebrauchte Schneefanggitter, Dachfenster, Antennen, Fahrradfelgen, wie auch Kabel, Kabelbinder, Roherverkleidung und Schläuche, um daraus ein zeitgemäßes Kunstwerk als Ausdruck für das Nomadische und die Unbehaustheit des Menschen entstehen zu lassen.
PETER PILZ and SILVIA LORENZ
"cage/uncage"
Peter Pilz, who lives in the Austrian region Burgenland, in Vienna and Berlin, displays a wood sculpture in the garden of the Mansion, which he designed specifically for this place: "cage" consists of three intertwined parts made from square timbers. Local buildings and artefacts inspired Pilz`s work: the typical half-timbering of Halberstadt, the square interior of the Klaus Synagogue and the wooden construction of the St. Burchardi organ that plays John Cage`s ASLAP. Pilz created an open construction that produces a multitude of spaces that complement, cut through and penetrate one another.
"uncage" by Silvia Lorenz serves as chaotic-organic counterpoint and opposite to Pilz`s orderly sculpture. Its a ball made from plastics and industrial waste. The title of the sculpture refers to a "setting free" or "escaping". It is inspired by tumbleweeds, as Lorenz says: "Tumbleweeds are often the last survivors in a Western film. They roll through the deserted streets like an icon. They appear to be deas but actually spread the seeds for teh next generation." Lorenz created her sculpture with materials she found on building sites, e.g. snow guards, skylights, aerials, bicycle rims, cables, cable ties, pine panels and bicycle tubes. The result is an expression of the nomadic and homeless element of the human being.
25.08. - 30.09.2016

http://www.mkh-biennale.de/

https://m.facebook.com/pg/MKHBiennale/about/?tab=overview