Bodied Spaces – be/verkörperte Räume

Inviting new forms of discussion about the body.







Follow BODIED SPACES on Facebook

August 22nd – 25th 2013

VIEW HERE IMAGES OF THE FESTIVAL

Performance & Video Art Festival

Hosted by Collective Patty & Britty and ART CLAIMS IMPULSE
The intention is to offer a platform for new forms of viewing the body and its conditions in live performance and video art. The works emphasize a
non-narrative viewpoint on the body and examine opposition between objectivity and subjectivity in an experimental set-up. The question of whether
it is possible to experience your own body and another body purely as an object – even though this is a contradiction in itself – provides a basis for
the artistic process and eventual outcome.

Performance & Video Art ist ein Festival
Veranstalter: Collective Patty & Britty und ART CLAIMS IMPULSE
Ziel des Festivals ist es eine Plattform für neue Formen der Betrachtung des Körpers und dessen Zustände im Rahmen von live Performance und Video Kunst
zu bieten. Die Arbeiten betonen einen nicht-narrativen Blickwinkel auf den Körper und untersuchen den Gegensatz zwischen Objektivität und Subjektivität in einer experimentellen Anordnung. Die Frage, ob es möglich ist den eigenen sowie einen anderen Körper als pures Objekt wahr zu nehmen – was eigentlich ein
Widerspruch ist – dient als Basis für den künstlerischen Prozess und dem schlussendlichen Ergebnis.

Collective Patty & Britty, ART CLAIMS IMPULSE

pattyandbritty.weebly.com


This years participants:


*For Information about Live Performance - please scroll down.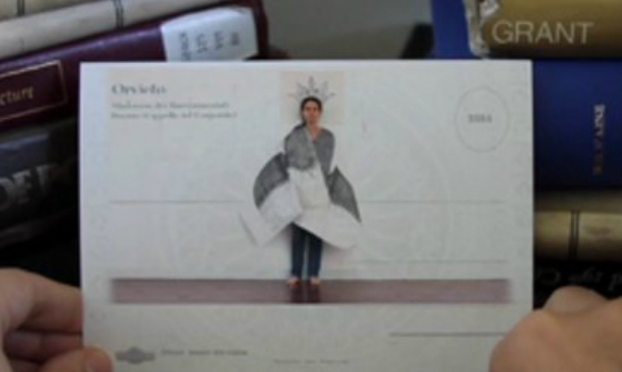 Ligia Bouton
Postcards From Rome

"Postcards from Rome" reflects the profound inspiration I found in the works of great historical masters while also exploring the very real possibility of becoming
overwhelmed and intimidate by their virtuosity. Each piece in the sequence utilizes only the most basic studio materials – paper and charcoal – and employs
simple video editing techniques to address not only the wonder, by also the feelings of inadequacy that artists, at all points in their careers, experience when
confronted by the works of their predecessors.

www.ligiabouton.com


---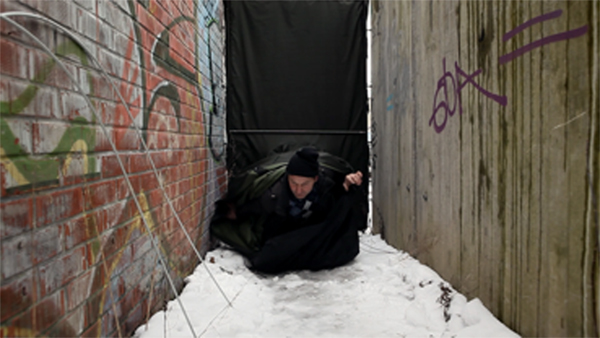 Alexander Callsen
GAP CAMP
In March 2013 "The Gap Camp" colonized an undefined niche in Lichtenberg Berlin. The tent structure filled the gap between a bridge and boundary wall and was used
by people.

http://lichtenberg-studios.de/2013/02/alexander-callsen/


---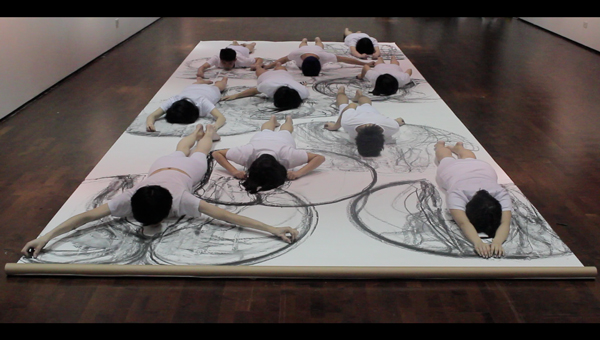 Isaac Chong

Equilibrium No.8 – Boundaries
The generation of trace and symmetrical balance unconsciously creates a dialogue to one another by body language. The movement of the outstretched arms imposed
explores the boundaries among people that our own "space" overlapped.
Description:This performance was done on a large-sized paper, meanwhiles, it could be made on the ground. The arrangement of the place of each performer was decided
by the artist. In this case, the form of human shape were lightly deconstructed in the reason of the overlapping drawing.
http://chongwai.tumblr.com/


---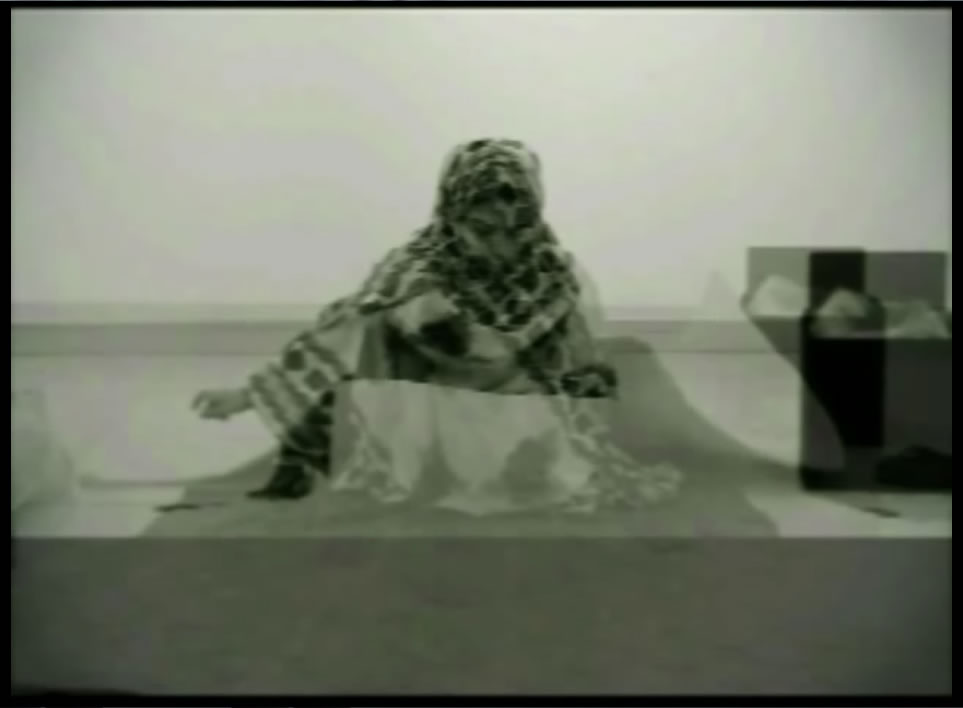 Simon Coates & Sara Al Haddad
عشنىوشفنى(We Lived and We Saw)

is the first collaboration between Sara Al Haddad and Simon Coates. عشناوشفناcan be translated as We Lived and We Saw. The short film with sound is a reflection on
gender politics, both in the Middle East and worldwide. The video piece shows Sara in contemplation as she embroiders a large quilt, sitting cross-legged on the ground
in the same way as women have traditionally sat to carry out their embroidery works in the UAE. The soundtrack has its basis in a field recording Coates made at an Emirati
wedding in Dubai, wherein the genders are segregated and the man dance, chant and drum. Vimeo link plus password to view the work is available on request.
Sara Al Haddad is an Emirati artist and Simon Coates is an English artist. Both live in Dubai in the United Arab Emirates. Sara is a graduate of The American University in
Dubai and completed two solo shows in the Emirate in 2012/2013. Coates is the artist-in-residence at Dubai's The Gallery of Light and exhibited work in London, Madrid,
Albany, Turon, Lisbon and more in 2012 alone. Sara uses fibres and yarns in artworks that comment on the role of the female in her own society. Coates works in film, sound,
paint and print in works that interrogate the politics of emotions.

http://alhaddadandcoates.wordpress.com/


---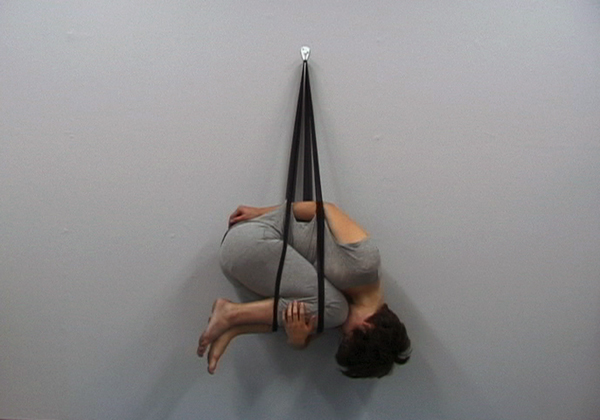 Monica Duncan
gym bag
Gymbag documents my attempt to become a gym bag. Whether or not the piece succeeds in this reading, I am interested in the task of assuming the form
of the bag: body as bag-image. Bag-body hung on wall—volition lost—possibility of a tumble.

I did not want to get in to a bag, to use my body to help fill-out the dimensional form of a bag. Rather, body as bag. Elastic sewn onto clothing—the suit, the skin,
the fabric of the bag.
In my studio I constructed a blank, gray space of contrived neutrality: the pursuit of an abstraction. The gym bag is left on the wall: first a mount that is at once awkward
and elegant, necessary to achieve suspension, sag, and release. An empathetic act and a figuring of physics: how much weight could the elastic hold, what form must
the body assume, what would be the relationship of hand, arm, hook—how to get myself hung-up, without any assistance?
I wanted to become an object—to feel a sense of gravity through the release of the vertical, upright body. Maintain a state of embryonic equilibrium, balance while rendering
myself immobile. Pose is literally the action of putting down or putting something in place—an act of constraint and of self-regulation—a movement towards the suspension
and coexistence of both the banal and erotic.

http://www.monicaduncan.net/


---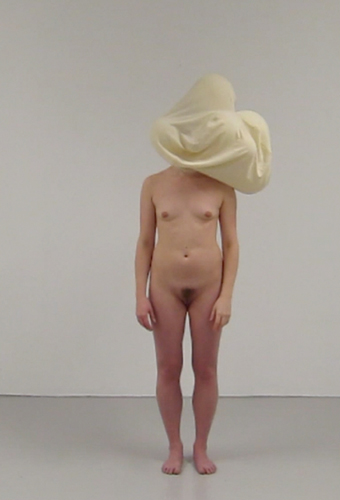 Marit Tunestveit Dyre
Placement within

Placement within came to be as a direct response to a personal conflict. My intention with this work was to express an experience of a mental and physical phenomenon
visually, connected to the body although outside the mind. I will describe it as a mental journey, a struggle or tug of war in your self, with a shifting voice, which can be
adapted to a wide range of issues. I have looked at the naked body as a blank canvas for expression, without personalizing it with a visible face.

http://www.marittunestveitdyre.com/


---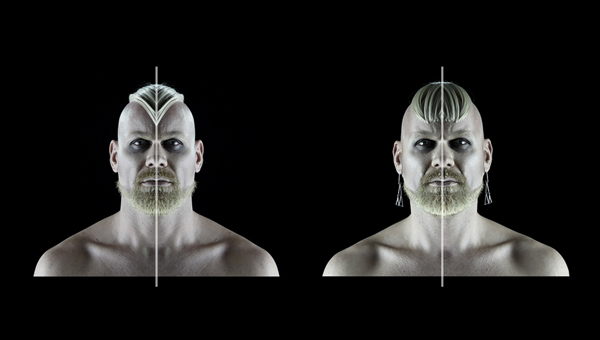 Felix Fernandez
Materialisation for Eternity

The programmed and artifical construction of a living icon who reminds us to common behaviours of other characters, become already iconic at their time: the exacerbated
documentation of his image and his continuance in time, the willingness to trascend his life and to give to his existence an higher meaning, through his image and his acts.
A video-document inspired to the retro-futusitic narration.
http://www.felixfernandez.org


---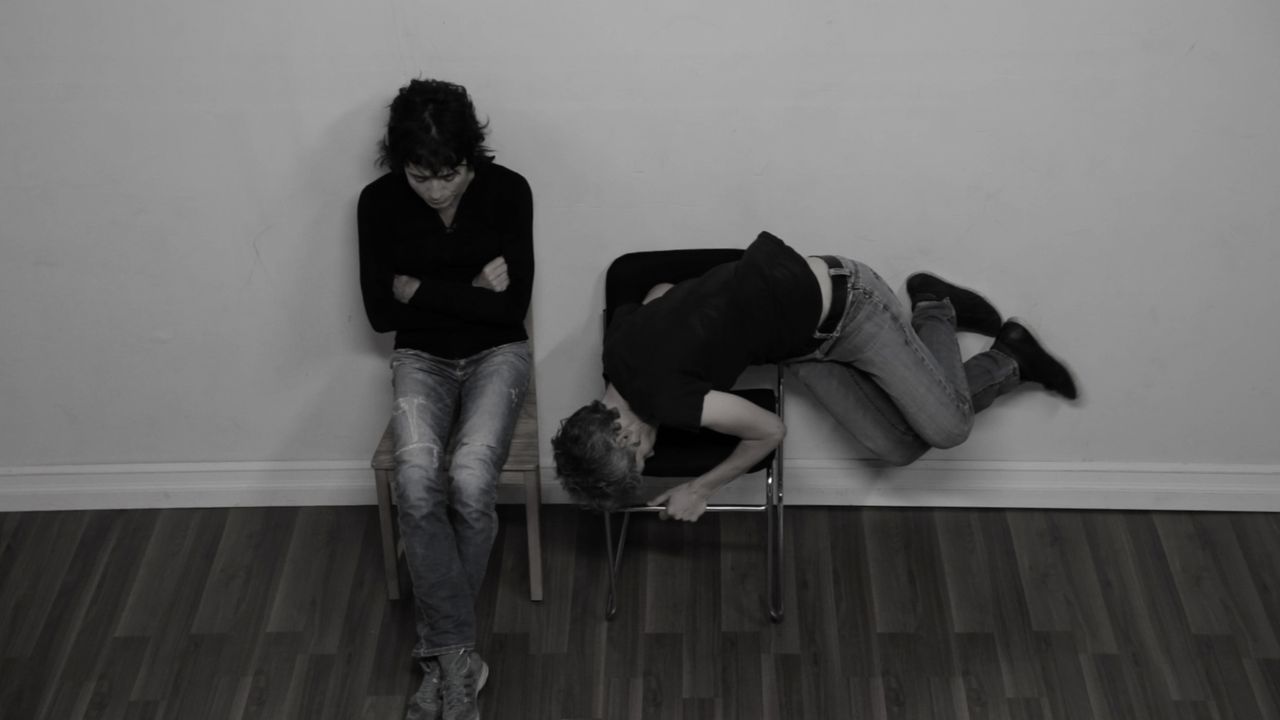 Nikki Forrest
Flip Bend

In this work I wanted to create visual and perceptual effects through live physical strategies rather than through post-production digital effects.
I was also interested in the interaction of sensory information and prior knowledge in perception. We know that perception is circumstantial and based in part on
what we assume to be true or possible. In these videos I wanted to explore moments of rupture where these basic assumptions no longer seem to make sense.

www.nikkiforrest.net


---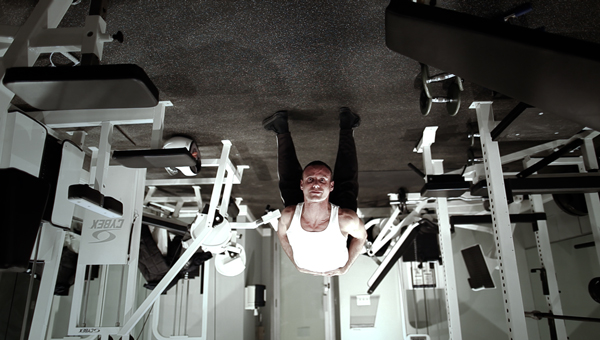 Constantin Hartenstein

FIT
FIT examines contemporary 'non-places' as described by Marc Augé in his phenomenological approach to supermodern spaces in metropolitain settlements. A contortionist,
through challenging his physical abilities, becomes part of the architectural environment. The transformed image creates an evacuated space. FIT wants to question the ideal
body image that is communicated via media and reveals how our bodies can become victims of obsession.
http://www.constantinhartenstein.com


---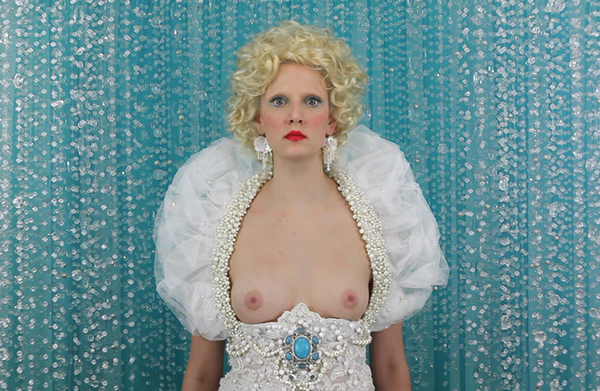 Draga Jovanovic
Your Self is a Reflection of Myself

In this film, one person is shown through the two different ages of her life. The first, the younger individual, is in her twenties and the other in her sixties. In the dialogue
between them, they manage to exchange their experiences whilst getting an opportunity to communicate with each other. At particular moments, the reflections of one
person are infiltrated by those of the other, so that one may entirely lose the feeling of which individual has started or which individual has finished expressing her thought.
Also, at certain moments, their reflections seem to be so dominant, with neither opening their mouths at all. The result is that their thoughts become even more suggestive
and powerful, gaining even more significance.The two of them are in a continual dialogue which sounds like a monologue or a confession at certain moments.

http://www.dragajovanovic.com/


---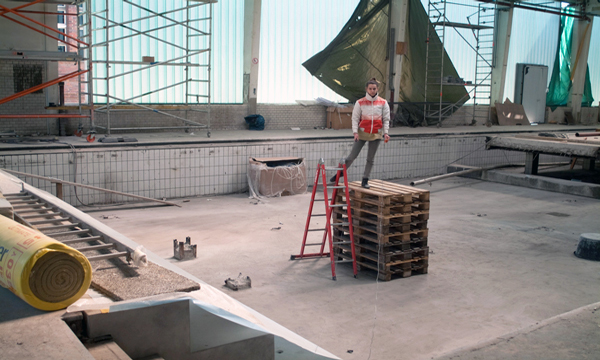 Nina Kurtela
Transformance

is a video-event-work that activates and documents a five-month durational performance. Over this period of time, Nina Kurtela establishes a daily practice of visiting
and witnessing the changes at the building site of the Uferstudios, Wedding, Berlin - the warehouse for the repair of public trams and buses becomes a dance institution.
She is spectator to the making of an institution, an art institution, the making of the theatre stage. The camera acts as a witness to her performing/witnessing. The piece
emerges as a case study of an individual subject's encounter with the radical transformations of social structures and operative models within the performing society. The
artist is present at the birth of Berlin's new contemporary dance centre, an institution that will certainly come to play a part in shaping and organizing the dynamic of the city's
dance community. The work emerges in the force field of a commitment to the daily execution of present-ness in relation to the specific context where this act takes place:
the building site of the theatre. What un folds is a 8-minute work with multi-faceted implications. The body is rendered a statue through the changes of time.
The screen becomes the performing skin.
http://www.ninakurtela.com


---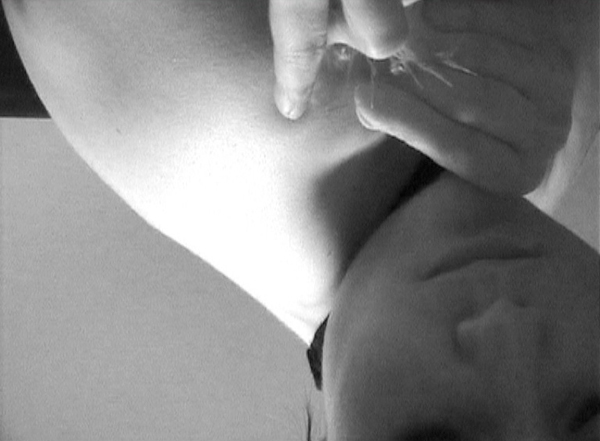 Chrischa Oswald
Hautnah / angel wings

The videoperformance "Angel Wings" is a metaphor for our eternal longing for ultimate freedom, for the desire to fly away like a bird. The try to sew feathers on my skin to resemble a bird and become an aerial creature is foredoomed to fail. Fatal pathos. A modern Icarus. Meditation of physical and emotional pain. The sound is based on a German children´s song whose actual lyrics and sound got altered a bit and adapted to the video´s message. The easy melody is contrasting the rough picture. In its endless repetition the sound gets a mantra-like quality and the picture and endless torture that is nevertheless poetic.

www.chrischa-oswald.com


---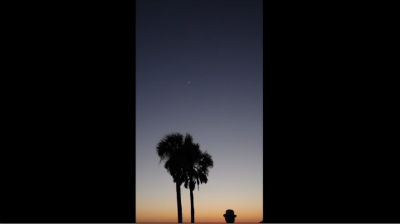 Jennifer Lauren Smith
Present Day

"Present Day" (2013). This short video depicts the beachside ritual of an astoundingly fit 65-year old "sham-shaman:" a modern-day Shaman who has invented his own form of ritual based primarily on fitness, yoga, and a mashup of cultural references. The video explores the potential for achieving transcendence through invented spirituality, and seems to suggest that it is indeed a viable possibility.

http://jenniferlaurensmith.com/


---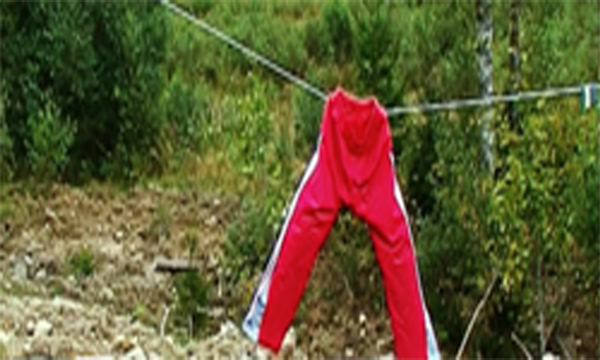 Tina Willgren
workout
I believe that every object posess certain powers. Not in a strictly superstitious way, but in how they guide our thoughts into different directions. Training clothes evoke the concept of exercise. Their empty forms are ghostly reminiscences of human beings. The leftover training clothes of this video are working out.

http://www.tinawillgren.com


___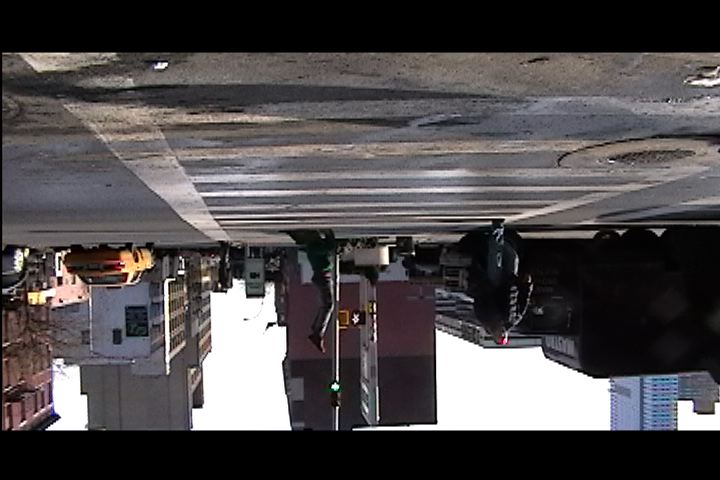 Ezra Wube
Headstance

"Head Stance" is about perception. The figure is a temporary monument. Stillness is contrasted with the chaotic existence of urban activities. The video is upside down so that the viewers perception is that of the figure.

http://ezrawube.net


---
LIVE PERFORMANCES






Grazia Capri
PerVoceSola

A fully annihilation
Per Voce Sola is small islands, spaces of freedom, unique angles of surreal shelter where time is forgotten. But where, however, our physical and psychological limits are challenged at every moment. Then, the body becomes the screen and the link between the space and the performer. I will explore and realise my intentions with the physical and real reducing of space. A constriction, a freedom reduction that leads body and mind either to adapt to this new condition or to a fully annihilation. The body is the contact point between us and the reality. How does a body react in a condition of space and communication constraints? What kind of relationship it has with the surrounding reality? And, above all: how does the relationship with itself change? It happens an amplification of the inside world, the body takes another shape; it adapts to this new condition and express its intimacy through the movement. That's to feel the space inside and outside our body, to listen to the vacuum around us.

Movement splinters, image splinters, and reality pieces: they explode and implode inside the body that become an unexpected ground for an inside and outside overtaking. Alone, in front of itself, the body can express through a natural movement to be as a part of the space, to be a space.
Project and Performance : Grazia Capri Set desin: Grazia Capri Sound desin: Grazia Capri and Stefano Barone Time : 25' min

http://www.graziacapri.org/


---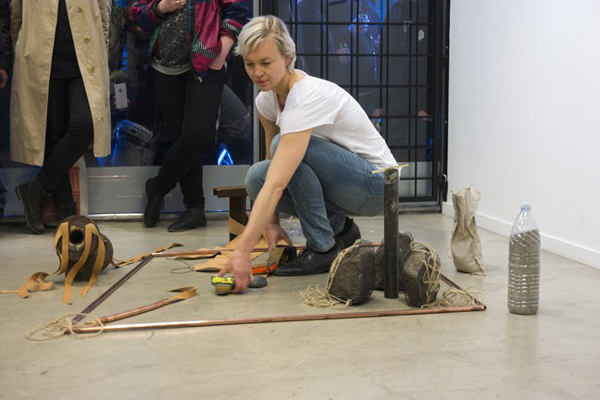 Sophie Dupont
My weight in matter materialized in the wheel of life

In this performance I transfer my own body weight into different kind of materials that I wear. In other words I carry my own weight. Most of the materials have some kind of healing, shamanistic, or historical use in rituals from all over the world over time like cobber, sand, stones, gold e.t.c. – Some are heavy, some light, some soft, some hard, liquid, solid and so on.
I then arrange the different materials into a kind of pattern image improvised by intuition according to the materials themselves and to body and space.

The Wheel Of Life is a term that is used in different cultures through time and is a reflection of life and death, spirit and matter and how to deal with the major issues in life.
http://www.sophiedupont.com


----


Collective Patty and Britty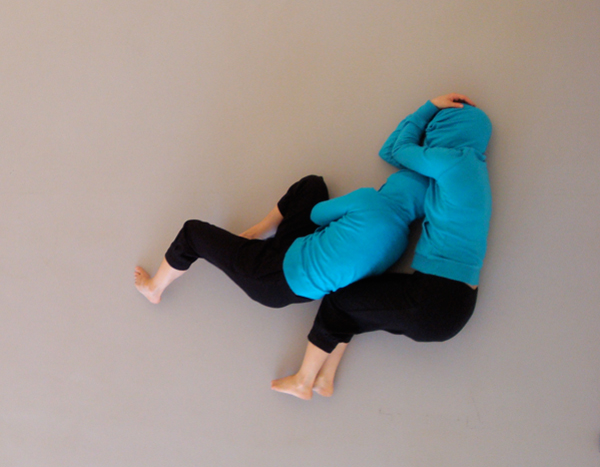 moleculse no.1

The work series molecules is a succession of works which explores the substantial and physico-chemical connection between two moving bodies seen through the eye of a camera. Approaching physico-chemical principles the collective patty&britty examines functional body movements. A starting point for improvisational research is chemical reaction kinetics (diverse reactions, such as magnetic attraction and electrostatic repulsion). We are looking at various forms of coincidences and other actions which are subject to specific principles.
The camera will function as a microscope and record these actions. Specific criteria and correlations are being highlighted, making visible what we cannot see with the bare eye. The camera creates a mise-en-scene frame, in which experiments and movements take place. Thus, the screen becomes a "laboratory." While the moving body is reduced to the horizontal plane the camera takes on a vertical angle. Through the birds eye perspective the perception on which plane the particles move - horizontal or vertical - are likely to be confused. A play with the common dimensions of height, width and depth arises. The use of the camera is essential in creating an alienating perspective and a distinct distance towards the objects.
The video molecule no.1, the first part of the series, was developed in co-operation with the video artist Lucy A. Roberts and the musician Olivia Oyama.

pattyandbritty.weebly.com


---


Lizzy Le Quesne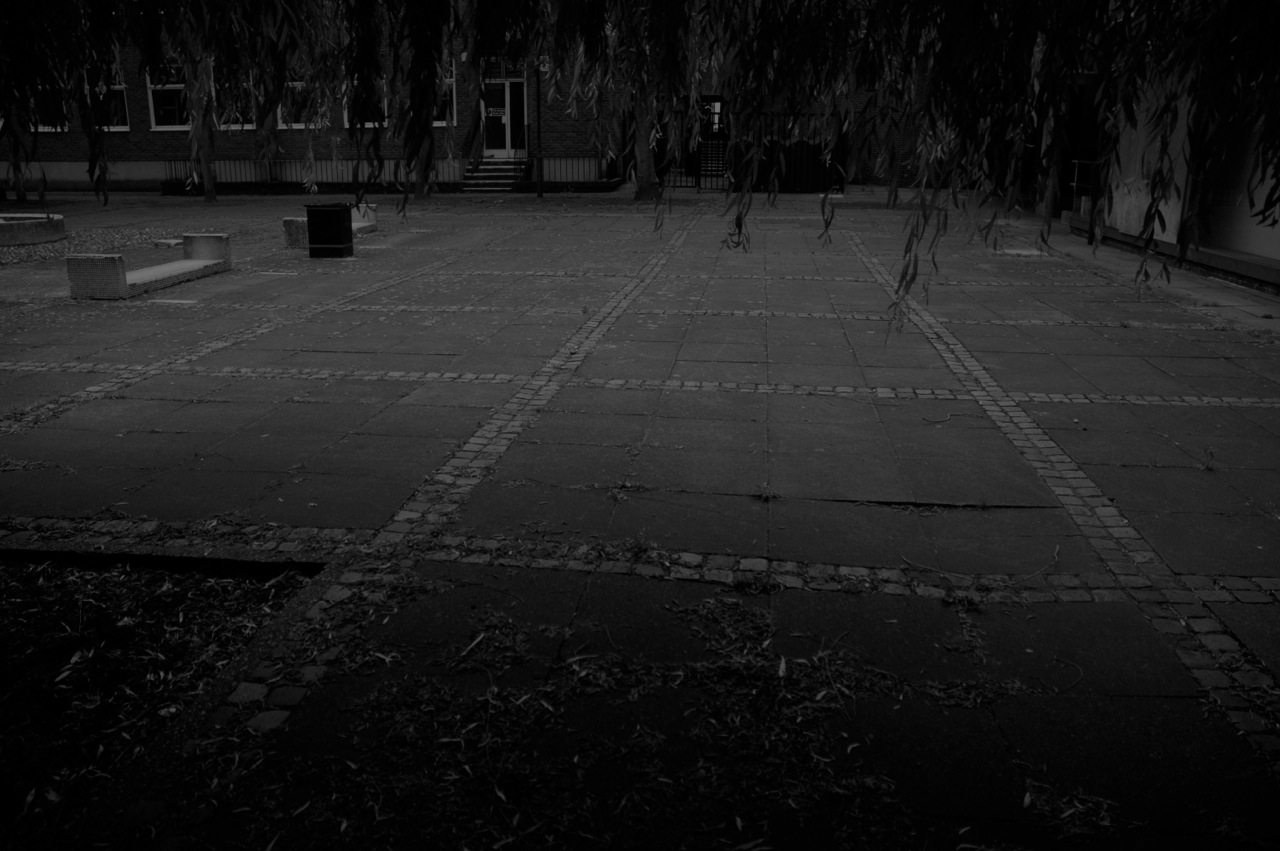 http://vimeo.com/user14695954/video
Emerging from a residency in the desolate post-war cityscape of Coventry, UK, Dislodgings addresses the challenge of moving - through space, time, lives and culture. Motion as physical change,
as shift in relationship, with time and space and other people.
I write - moving in the act of writing - marking my environment, defining experience, as the physical self negotiates the physical and social contexts in which it exists. Language, movement,
space and photographic series evoke the sense of embodied act - of passage - between spaces, situations, roles...